Introduction
We're proud of our Island Republic, and we want to keep it looking its best.  Litter and incorrectly discarded waste have marred our island's beauty and several litter 'hotspots' are a major source of frustration. Keeping Malta clean is a shared responsibility. It's time to work together to clean up our Island.
Purpose
Clean, attractive streets are a necessity for any livable country, including ours.
Malta strives to be a sustainable island with a circular economy that makes responsible use of scarce resources.
Result
All of us, on the Maltese Islands, collaborate together and assist in a separating system that includes organic waste;
This in turn supports creating resources from waste.
In keeping the island clean, we employ efficiency and sustainability.
The better we sort our waste, the more resources we can recover through recycling, and less residual waste translates to less environmental impact.
Methods
While the local councils take care of street cleaning and waste processing, Residents, Visitors and Tourists are responsible for separating and sorting waste for recycling, and keeping the island tidy. More importantly, they are responsible for reducing the amount of waste they generate by avoiding excessive packaging wherever possible.
In order to extract as many resources as possible from our city's waste, all waste must be sorted (separated) prior to collection. This is more effective and cheaper than sorting it after collection. To make this possible, all of us need to sort our household and commercial waste so that it can be collected separately. This will also help to cut down on litter, which is often the result of waste that has been disposed of incorrectly.
Source:  Recycling and Waste Management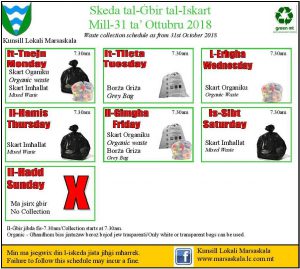 Household Waste in Malta: The Basics
In Malta households use three separate waste bags.
White bag for organic (including food) waste
Grey/green bag for unsoiled and clean paper, plastics, metal, and drink (PPMD) packaging
Black bag for all remaining waste (mixed waste)
In reality, after placing organic waste in the organic bin and clean paper and plastic/metal packaging in the recycling bag, few items will need to be thrown away in the black bag.
However, it can take a bit of time to get used to this system! Here are some tips and useful links to get you started:
When you first arrive in a new neighbourhood, visit Waste Serve  to find out when your locality is served, or visit the local council of your community. Take note of which bag is collected when. If you place the wrong bag on the curb side, it will not be collected. Make sure you place your own bags on the pavement in front of your own residence between 6.00 and 7.00 a.m. Do not leave your uncollected bags on the street at the end of the day!
At the core of good waste management are three principles, also known as 'The three R's. These are to Reduce, Re-use and Recycle. Through the website Wastetips you can download factsheets with some useful tips on each of these waste management techniques. Resources provides other useful information.
Be a good neighbour and a good sport.
You risk being fined for failing to abide by the rules.
Organic waste = White bag   
| | | |
| --- | --- | --- |
| Bones | Flowers | Plant trimmings |
| Cheese | Fruit | Raw food |
| Coffee | Fruit and vegetable peels | Seeds |
| Cooked food leftovers | Fruit and vegetable seeds | Soiled newspapers |
| Dairy products | Honey | Soiled tissues |
| Egg shells | Icing sugar | Sugar |
| Eggs | Leaves | Tea bags |
| Expired food | Meat | Tea leaves |
| Fish | Pips | Vegetables |
Collection on Monday, Wednesday and Friday
Paper, Plastic, Metal and Drink packaging (PPMD) waste recycling = Grey or Green bag
| | | |
| --- | --- | --- |
| Card paper | Jar lids | Plastic bags (clean) |
| Carton boxes (clean) | Juice cartons | Plastic bottle |
| Clean aluminium foil | Liquid soaps (clean container) | Plastic caps |
| Clean plastic bags | Magazines | Plastic containers |
| Clean takeaway boxes | Margarine tubs (clean container) | Plastic food packets |
| Cooking oil bottles | Metal caps | Shampoo (clean container) |
| Cosmetic container (clean) | Milk cartons | Shower gel (clean container) |
| Detergent bottles (clean container) | Newspapers | Spray cans (empty) |
| Detergent Boxes | Notebooks | Toilet paper rolls |
| Drink cans | Paper | Toiletries containers |
| Food cans | Paper bags (clean) | Yoghurt container (clean) |
Collection in Marsaskala on Tuesday and Friday
Please be sure to put:
Only unsoiled paper and carton into your paper bin;
All cans, drink packaging and plastic bottles are to be empty, rinsed and clean as are other plastic materials such as bags, and so on.
Please note: glass is collected separately on the first Friday of every month!
Rest Mixed Waste = Black bag
| | | |
| --- | --- | --- |
| Adhesive tape | Hair | Stickers |
| Soiled Aluminium Foil | Jablo good items | Toothpaste tube |
| Baking paper | Labels | Used cleaning materials |
| Broken ceramics | Photographs | Used cling film |
| Dirty food wrappers | Nappies | Used floor cloths |
| Cellophane | Plant pots | Used rubber gloves |
| Dirty take-away boxes | Sanitary items | Used sponges |
| Foil coated packets | Shoes | Wax paper |
| Dust | Small broken mirrors | Wet wipes |
Collection in Marsaskala on Monday, Thursday and Saturday
Batteries, bulky refuse, construction waste, hazardous waste and commercial waste are disposed of otherwise.
Civic Amenity sites cater for the disposal of
Furniture, mattresses, carpets and clothing
White goods such as fridges, cookers and microwaves
Electronics such as computers, monitors, mobile phones, printers, electronic toys and tools
Garden waste
Edible oil and lubricant oils
Batteries, spent bulbs and neon tubes
Expired medicines, empty inhalers and used syringes
Solvents, chemicals, paint and other hazardous waste
Small quantities of household construction waste such as stone and tiles
Tyres
For Marsaskala the site at Hal-Far located on Hal-Far Road, close to the ETC Head Office and the site at Luqa located just outside the Marsa Industrial Estate are the two closest ones.
Civic Amenities sites are open from 7.30am – 5.30pm including weekends and public holidays.
For further information please call WasteServ on Freephone number 80072200.
Final Note: We are looking for feedback about the garbage collection scheme in Marsaskala. We kindly invite you to fill in this short survey.
We thank you for your cooperation.