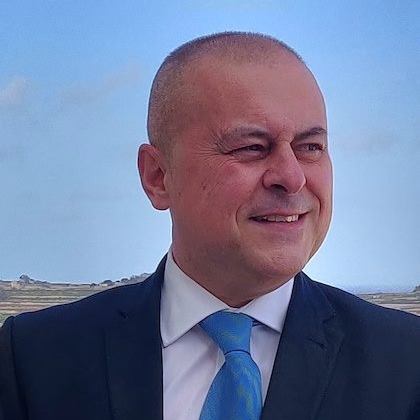 1. What is your stance on the Jerma proposal as it currently stands? Should the LC be asked to vote on this in the future, how would you vote if the residential apartments remain part of the proposal?
There seems to be general consensus that the Jerma building should make way to new development.

I believe in sustainable development where economic growth should be adequately balanced with ample environmental improvement. As proposed, the new establishment such as a hotel and residential units will occupy a much smaller area than the current one. It will therefore be complemented with an adjacent open space which I believe can serve for anyone to enjoy the harmonious balance between nature, modernity and in this case our historical heritage in the area, that is St Thomas Tower with its timely upgraded plaza.

Obviously demolishing and construction should be performed under strict scrutiny to safeguard the residences in the surrounding area. On another note if this development were to materialise it must not be seen in isolation and the benefits that can potentially be reaped with this development can only be fully achieved with a holistic improvement to the whole area.
2. What are your thoughts on the take up of public land to build the Żonqor branch of the AUM? If you had to vote again in the future, would you be in favour of, or against the irreversible destruction of that area of Żonqor?
Rather than leaving it as is, I prefer if the area will be rehabilitated into a dense woodland and populated with indigenous trees. Then again if the area will be used to develop an extension to the AUM, we must not forget that the proposed constructed area has been substantially reduced. Looking at things from a different perspective, in the eventuality that AUM will open an annex in our town one must not neglect that this can serve to brand our locality as a University village with potential attraction of other educational and other business enterprises that may be attracted to the region. If the area were to be developed I prefer to secure the land as a University and accompanying woodland/park with ample cycling, walking and running tracks that connect Marsaskala to Xghajra than anything else.
3. What are your thoughts about excessive development in general in Marsaskala? Our infrastructure is struggling to cope – how will you ensure that Marsaskala remains a residential village for families, as opposed to becoming another Sliema?
The local council seems to have limited say on urban development. There is no magic wand to resolve the issue of population increase except either increase building height or take more virgin land.

In context of the rapid increase in population, one must ensure that newly erected buildings must be complemented with adequate parking bays. One must also not forget that the wellbeing in our community does not stop at the doorstep but continues outside. Thus, the importance to safeguard our heritage and replenish public areas with indigenous trees that can withstand heat, provide shade and shelter for birds and enhance the quality of air. Like other areas we are already experiencing a high building density, but the creation of a 'green belt' with a robust presence of trees to demarcate the confines of our locality can be an initiative to start to balance things out.
4. What is your opinion on the preservation and creation of public open spaces in Marsaskala? What do you think about the building of new LC premises in Ġnien Sant' Anna in the face of residents' opposition?
The various facets of Marsaskala including the sea, the fishing community, our promenade, commercial outlets, village feast and family park, all compliment to attract crowds of visitors with their cars, with a detriment to the quality of the air. As I reiterated before there is no straightforward solution to urbanisation and while complaints are common, proposed solutions that can help the LC should also be put forward.

Marsaskala and St Thomas bay lie between Żonqor and Munxar, both of which require close attention in their own respect. Again, objectively speaking, in the eventuality that AUM will be set up at Żonqor, the rural area must be conserved and permanently designed to harbour indigenous trees where people and families can go to recreate themselves, read a book, enjoy sunrise and appreciate the unique open views of the Mediterranean Sea. During my walks at Munxar I could not but sadly see that it is inexorably becoming a construction dump site. I am sincerely grateful to see clean-up initiatives organised by residents. Yet, keeping a vigilant eye by setting up more CCTV cameras to limit illegal dumping will help so that the work these people do will not be lost.

In respect to Saint Anne's garden my impression is that the local council office and civic centre are to complement Saint Anne's garden which incidentally is also going to be duly upgraded. Then again it is the outcome of the consensus achieved by the members of the exiting LC and I may not have the whole picture to pass judgement.
5. What is your stance on the construction of an ODZ petrol station just opposite the Family Park ?
I prefer not to comment on something for which a decision has already been made.
6. What is your vision for the Sant'Antnin recycling plant once it phased out? What would you wish to have instead of it?
It can become a major project for further regeneration of the South of Malta. I suppose that the area can first be used to extend the limits of the family park adding more indigenous trees as part of the green belt and air enhancement initiative around all of Marsaskala. It can also be complemented by a large underground reservoir to ensure that the park and surroundings remain green all year round. Complementing this I envisage the development of tennis court(s) next to the football grounds. Adding more open green space is always a gain. Yet, if the rest is to be developed differently I imagine that it can include commercial premises and space for an open market, cultural and social events which, accompanied with ample available parking would reduce congestion closer to the sea front.

The area can also serve to provide the much-required building space for the local village feast enthusiasts who play an important role to safeguard local heritage, offer an alternative to the younger generation keeping them away from other vices and allowing the old church at La Sengle street, currently serving as a store and workshop, to be restored to its original beauty. The area can also be complimented with public transportation and bicycles to commute to and from the promenade.
7. Noise disturbance is an increasingly problematic issue. Would you consider fining contractors who disobey basic rules like working outside permitted hours?
While it falls out of LC control, there are specific sound regulations that control how construction work is performed. If these are breached than those involved should be immediately stopped.
8. How will your service as a councillor improve the health of residents?
I quit smoking 16 years ago and been physically active most of my life. We have currently exchanged one of our family cars with a smaller hybrid one and where possible I commute on foot. We consider health and wellbeing as a prerogative and sound investment. When I can, during my early morning runs or walks (depending on my mood) I proudly post photos of our majestic sunrises on social media, so safeguarding clean air and open spaces is very important for me.

As a locality, we must acquire a beneficial holistic mental and physical healthy living approach that includes everyone. Wherever possible we should also tap and incentivise the talent in our locality to step forward and help the LC achieve such initiatives through open-air training sessions which besides giving more value to our open spaces, will also blur further the delineation between the LC and residents. We must ensure support to local talent, incentivising residents to step forward with initiatives to back existing sports clubs including the boċċi club. Curating talks by professionals in our village, organising country walks and astronomy evenings will not only cater for the joy of knowledge and mental wellbeing but it can also (hopefully) safeguard the beauty of our locality better through the apprehended appreciation that will ensue.
9. Transport such as cycling have thus far been actively discouraged (e.g. removal of the cycle lane along Triq is-Salini). Will you actively encourage cycling and walking in Marsaskala? How?
There is a difference between wishful thinking and reality and a difference between what one can promise and what can be achieved. I am not in favour of the removal of the cycle lane in Triq is-Salini, then again it lacked continuity. If it were for me we will have a whole network of cycle lanes that will connect the whole island but space and road width are what they are.

We also have a problem with cars that is not easily tackled especially because for most of the population, cars are an extension of the body. I prefer that if this is to be taken seriously then we must be proactive and come up with tangible solutions. Putting back the limited cycle lane on Triq is-Salini will not resolve the issue of alternative transport. Rather it will squeeze ensuing parking in the surrounding streets which are already packed with cars and increase frustration among residents.

One must also not forget the topography of our locality. Most of Malta is hilly and not everyone is apt to commute on foot with children, shopping and shopping bags in any weather especially hot weather which is prevalent for us. Power assisted bicycles will surely help but again there are various facets to the issue such as social, economic, cultural and other that must be considered if we are to act holistically for all the forms that sustainable development can enact. Adding bicycle parking spaces, and connecting Żonqor to Xgħajra with foot paths and cycle lanes will be a good start. But soliciting for a serious discussion of a well-set local and social plan with interested parties is important to foster a greener mentality in both the adult and rising generation
10. Do you think there is a problem with rubbish and dog litter in Marsaskala? What do you plan to do about it?
Yes, there is. It is not the first time that I caught on camera people in front of my house who pick up dog litter with one hand and immediately throw it away in a plastic bag with the other hand. Then there are also a very few others who draw a blind eye while their pet is doing its job. The waterfront on Triq is-Salini is also frequently marked with 'skid marks'. Then again it is not the first time that, while commuting I stop and thank the many responsible people who pick their dog litter and dispose of it properly

Increasing litter bins with well-planned times for litter collection in various areas helps, but I believe that, where proof of broken rules is tangible, fines should be issued.
11. Will you be willing to speak to restaurant owners and require a bin outside their premises?
Albeit that this is not in the LCs remit, we all know that lack of hygiene pushes crowds away. It is therefore in the interest of restaurant owners to have surroundings clean. Thus, where required bins should be added and rubbish collection should become more frequent especially in summer and during weekends. Also, restaurant owners should at least be encouraged to separate rubbish at source inside their premises.
12. What effective enforcement strategies would you put in place for those who do not follow rules?
Anyone who does not abide to the rules should be held responsible and face consequences as dictated by the law.
13. Currently, groups of residents are only allowed to speak at local council meetings once a year. Will you consider the possibility of engaging more publicly with groups of citizens during local council meetings once in office? How would you do this?
As a new candidate, there are things that I still have to learn. But, as can be observed, even from this questionnaire and the initiative to share on social media I form part of a community that can think, reason out and that I believe can possibly and constructively liaise to suggest solutions. So, if it can be done, then yes especially with those who are capable of formulating awareness, suggest and discuss outcomes.
14. Will you make an effort to regularly notify citizens of important council matters via the (thus far) rarely updated website, official Facebook page, and any other means?
The fact that most of us are digital citizens and are capable to reach out through our screens anywhere at any time has allowed me to thoroughly base my campaign through social media. The number of thriving pages on Facebook Social on Marsaskala are in themselves proof on how strong social media is. I will see that the website like other social media pages will appropriately serve its purpose.
15. Give me one good reason why you deserve the vote and the trust of the residents of Marsaskala
It irks me when I read comments by certain members of the community who try to threat prospective candidates with their vote. I believe that, like me, those who decide to run for local council do it because they have their locality at heart. Thus, there is no other reason for running for local council except for what I think I can give when it comes to the wellbeing of my town. I am sincere, transparent and straight to the point but always ready to learn. At this point in time, being new to the council and political mechanisms, what I believe is not achievable I cannot promise, else I will be lying. Hopefully I will contribute to make Marsaskala a better place for everyone.

I understand that I can never see the whole picture on my own and constantly testing the waters helps. So, I will always be open to suggestions and more so to solutions.
16. If you were granted three personal wishes for Marsaskala – no limits, everything is possible. What would those wishes be? What is your vision for Marsaskala?
a. Firstly I wish that parking problems will become something of the past. Hopefully I will live to see less parking problems with less cars, more parking spaces and better use of alternative modes of transportation.

b. Secondly, I wish that when I look on both sides of our bay, Jerma or not, AUM or not, my view would also be limited by woodlands. There are many beautiful seaside locations all over Europe where a healthy balance has been achieved between the environment and urbanisation. This can also be enhanced if more roof owners make best use of their space with roof gardens like I did at home.

c. Thirdly if we intend to safeguard land then buildings will inexorably get higher. I do not believe that there is a law that safeguards solar rights but if someone invested precious savings in PV systems and solar water heaters and eventually ends up in perennial shade because of adjoining high-rise buildings, then developers should be held responsible to provide space on their roofs where shadowed alternative energy systems can be installed.
17. What result do you want to achieve, if elected for the coming five years for Marsaskala residents?
Again, I prefer to use 'wish' and not 'want'. I may want the non-attainable but as a council we can always aim to see that what one wishes becomes true.

I hope that we will be able to conserve what we have and make other things better. Apart from the fact that conserving what has already been done is a handful there is much more that can be achieved on social, economic and environment levels. I hope that in the end Marsaskala will become greener and a living example of balanced sustainable development. We can pledge for more trees even by adopting mature ones that are inexorably being uprooted to make way for new development elsewhere. Ultimately, I hope that I can feast my eyes on more wooded open spaces that can be used to facilitate the organisation of various local social activities that intentionally can include all of the community.

I want to safeguard and enhance what makes us Maltese and incentivise local village feast organisers to work in better conditions.

I will also work to conserve our historical heritage. A lot has been done but I am sure there is always more to do.

We must also protect our sea and find a viable solution for the fish farms which though economically important are detrimental to the achievement of a cleaner sea and wellbeing.

As an educator I look forward to enhance residents' awareness and appreciation towards our locality make cleanliness a social responsibility.
18. What can we hold you accountable for?
Sincerity and transparency. My experience may be limited but, in my intervention, I tried to be as realistic and practical as possible.
I intend to talk less so I can hear more what residents will have to suggest.
The rest will hopefully follow once I can see a better picture of the outside from inside the council.