A recent Times of Malta article stated that over 18,000 EU nationals are registered to vote during the European Parliament (EP) elections in Malta. What does that have to do with Marsaskala, you might ask? Well, Local Council (LC) elections are due to be held on the 25th May 2019, at the same time as the EP elections . Anybody residing in our locality (be they Maltese or non-Maltese) who has an ID or eResidency card with a Marsaskala address is eligible to exercise their democratic right to vote for one or more of the candidates and have a say in determining the future of our beautiful village.
A good proportion of Marsaskala's growing population was not born in Malta, but that doesn't mean they can't also vote in the LC elections. Indeed, we were always taught that it is one's duty – as well as one's right – to vote. Just follow these three easy steps:
1. Visit the Electoral Registry website and enter your personal identifier details (see screenshot). These should match those on your ID/eResidence card. Click 'Submit'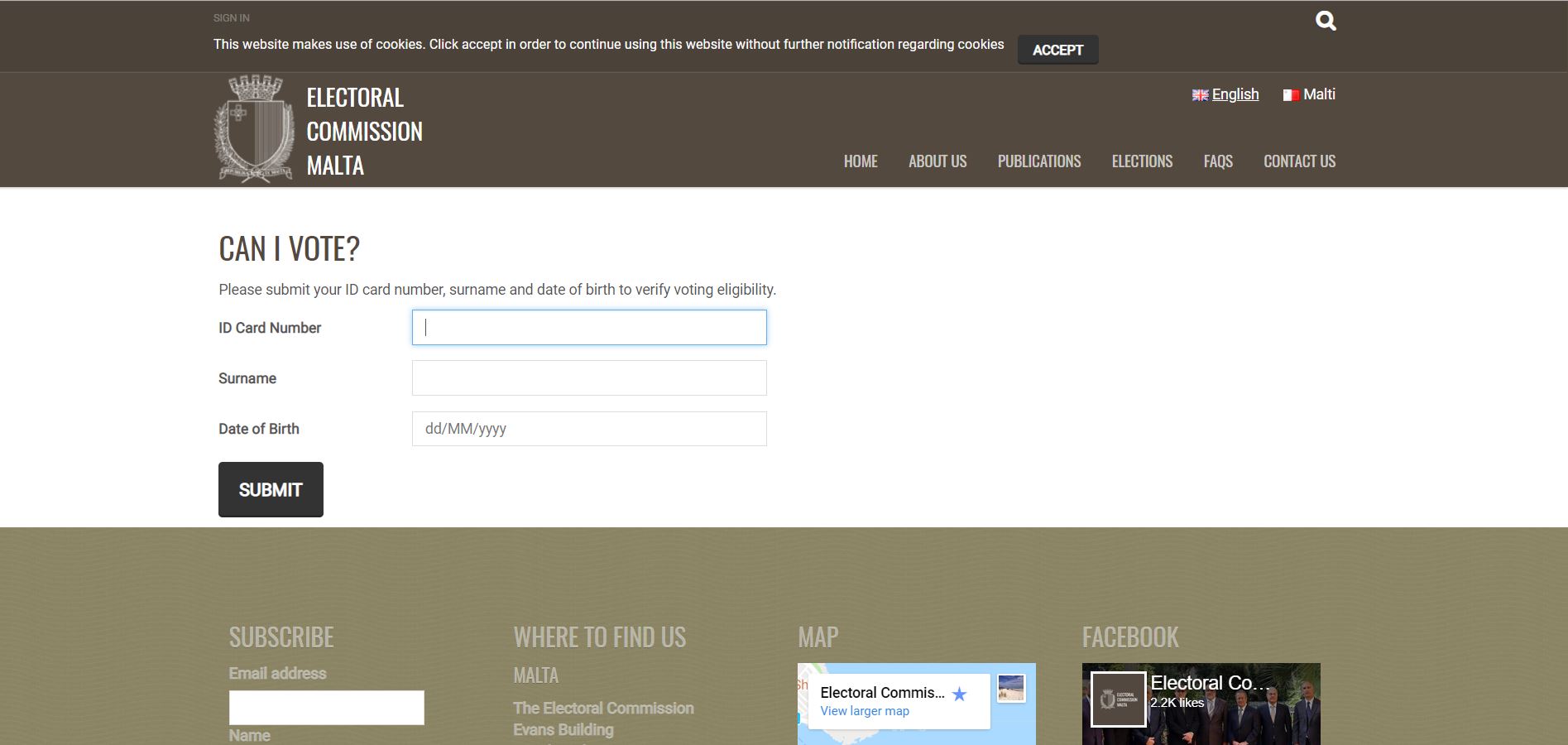 2. If you are eligible, you should see a statement like this:
[Name], holder of ID Card Number [1234567M], is registered to vote in the following electoral register/s: LOCAL COUNCILS ELECTORAL REGISTER published in OCTOBER 2018. You may also be eligible to vote in other elections, as in the example below.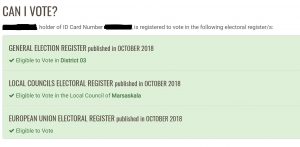 3. If you see the above statement and your name is on the register, then all you need to do is wait. Police Officers will attempt to deliver your voting documents to your registered address starting from Sunday 14th April 2019. If no one is at home when the Police Officer calls, you will be able to collect your voting document/s by calling personally at the Police Station (or Local Council in certain localities) of the town or village where you are registered, on presentation of a valid Identity Document (Identity Card or Residence Card) issued by Identity Malta, between Thursday 9th May and Sunday 19th May 2019 (last day till noon). You may also personally collect your voting document/s from the Electoral Commission at the Counting Complex (ex-Trade Fair grounds) in Naxxar between Monday 20th and Thursday 23rd May 2019 (last day till midnight), if you are registered in Malta.
If you do not see the above statement, then have a look at the Electoral Commissions FAQ section. You may also wish to see this list of FAQs for the MEP elections. When one applies for either the e-Identity Card or the eResidence Card, one is automatically applying to be registered as a voter when one completes the relevant application forms.
Happy voting!