Nothing good. Recent reports that the Jerma site is likely to be (or already has been) purchased by Joseph Portelli – the Gozitan construction baron who is lately on the news for all the wrong reasons, including construction illegalities and ODZ applications (see here, here, here, here and here) – is terrible news for Marsaskala.

Let's rewind a bit. In our last blog post on Jerma back in April, we posted that the Environment and Planning Review Tribunal had just reached a decision (3 years after the initial enforcement notice was published) not to penalize the owners for abandoning Jerma, or oblige them to pull down the dilapidated building. Instead, they were given 30 days to present a 'method statement' describing what they would do to minimise the damage caused by the abandoned building to Marsaskala's coastline. Since then, absolutely nothing has happened on the ground, except for more rubbish accumulating on the site.
Marsaskala Community & Friends decided to follow up on this and emailed the Planning Authority on the 13th September (more than 3 months after the expiry of the enforcement notice) asking for an update: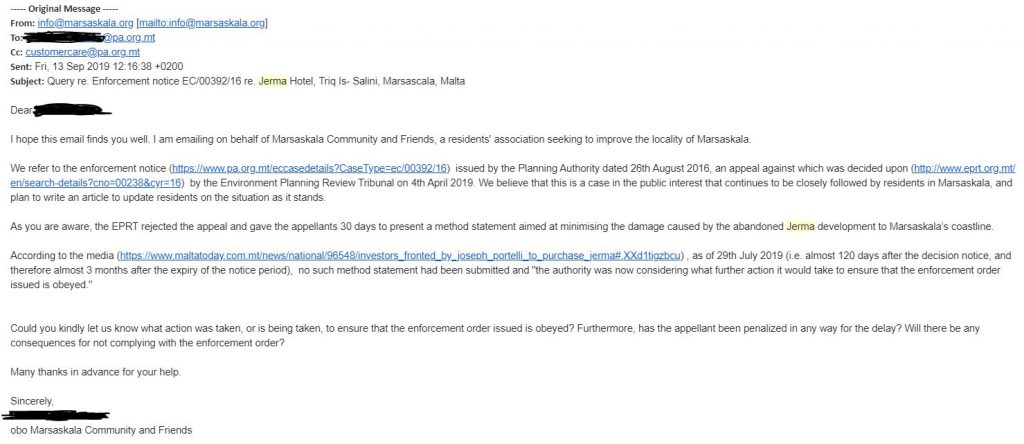 We received a reply on the 25th September stating:

Dear Sir,
Referring to your email below, kindly be informed that a Method Statement has been submitted and is currently being evaluated by the Planning Authority.
[Customer Care, Planning Authority]
Not very informative, but hey, at least the method statement has finally been submitted… it's only been a few extra months anyway. No penalties of course…
Something is brewing…
On the 18th October 2019, a public consultation on the Jerma site was launched by the Ministry for Transport, Infrastructure and Capital Projects. The consultation proposes a number of objectives for a Site Development Brief (which sets out the planning parameters for development of the site…amazingly, this had never been done previously). We reproduce the relevant ones below:

Request by the Government for the preparation of a Development Brief for the site of the ex-Jerma Palace Hotel, Marsascala.

a) To designate the site shown in Map A as a Comprehensive Planning Area for Regeneration of the Urban Coast;

b) To promote the development of a mix of land uses which shall include:

• Tourism accommodation which must include Class 3B (Use Classes Order (SL552.15) hotel/s which shall never be smaller, in terms of Gross Developable Floor space (GDF), than the ex-Jerma Palace Hotel;
• Category A residential uses (Use Classes Order (SL552.15) which shall not exceed 40% of the total allowable GDF;

c) To ensure that the overall development density does not exceed 100,000 sqm GDF, excluding spaces for car parks and services, irrespective of the position of the floor space in relation to any street level;
…….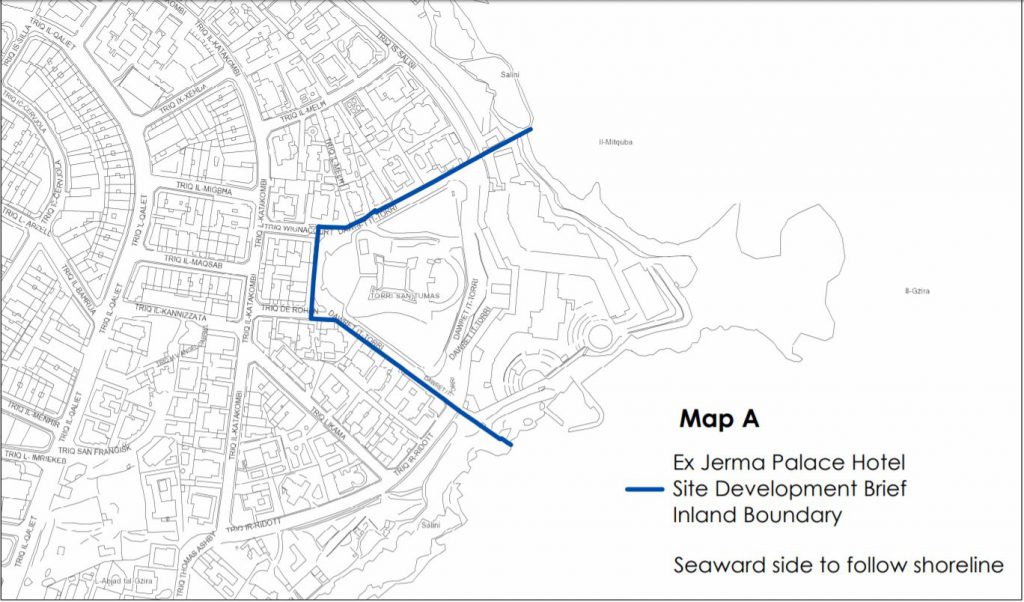 In addition to the inclusion of St. Thomas Tower in the site plan (Map A), objective (b) is truly shocking. It is clear that the developer is betting on people not understanding what 100,000 sqm (square metres) of development means for Marsaskala.
By the numbers…what do they mean?
The current site boundary of the Jerma Hotel occupies 17,500 sqm. All of the current abandoned building and landscaped areas fit within this area. All of the proposed development will also have to fit within this area.

According to the Floor-to-Area Ratio policy

,

the scale of public open space should never be less than 50% of the site area.

The development density (EXCLUDING parking areas and services) will be 100,000sqm. This is 63% higher than the 61,000sqm of the application currently being considered by the PA. Based on the site brief, not less than 40,000sqm of the density will be dedicated to residential use (apartments), and 60,000sqm to a mix of tourism and commercial use.
Now for some math…
Assuming FAR applies, the land area actually available for building is:
17,500 ÷ 2 = 8,750sqm

Assuming all of the above area will be built up, and dividing 100,000sqm by 8,750sqm, gives us a figure of 11.4. At this point, these are just assumptions as we do not yet have a project application to look at, but let's say that the building or buildings (previous applications have proposed more than a single building) will be around 11 floors high as a minimum. Each floor equates to roughly 3m height, give or take, depending on use, so the building will be around 34m high.

Assuming that an existing policy loophole will be exploited (while the policy regulating high-rise buildings excludes Marsaskala, the policy regulating hotel heights permits four and five star hotels to extend their accommodations to more than two floors over and above the permitted number of floors in the Local Plan), let's add another 2 floors – equivalent to 6m – to the total height.

This brings the potential total height of the building up to 40m. Again, these are rough estimations, but for the moment they are what we have to work with.
In short, it's a monstrosity
Anybody living in Marsaskala should be horrified at this news. Think about it… the current Jerma building is around 5 storeys + penthouse above street level. Think about what a building 3 times this height will look like. What kind of shadows will it cast?

ALL of us are clearly in favour of demolition of the current dangerous structure. The point of this consultation is to influence what is done with the space left AFTER the demolition. In order to get rid of the current eysore, do we need to have forced down our throats a 15 storey high-rise and at least 166 new apartments in Marsaskala, with all the additional traffic problems this will invetiably cause? The monstrous 15-storey development being planned will likely bring some low-paid jobs to the area, which is positive. However, given the historically low unemployment rate Malta is enjoying, we wonder whether the economic argument is worth making at all. We also ask ourselves, given looming tourist accommodation oversaturation and industry warnings to beware of investing in new hotel accomodation, whether 15 floors (9 more than the current Jerma building) of hotel rooms is justified. Why not keep to the current, relatively low-lying building design? Why include residential buildings at all, when Marsaskala is so overcrowded and its infrastructure strained to its limits?
What can you do about it?
You could send an email to smlp@pa.org.mt with your objections. These should be received by 11th November 2019. We are working on a template submission and will post this for you to copy/edit and send in the coming hours.